4 Questions to Consider When Planning Your New Bathroom
Description
Ever heard that old adage, "Measure twice, cut once"?
It's really saying that preparation is absolutely vital when it comes to DIY and building work of any kind. So if you're planning to create your dream bathroom in the near future, you need to be fully prepared. To give you a helping hand, we've put together four essential questions that you'll need to consider before you even pick out a bathroom tile.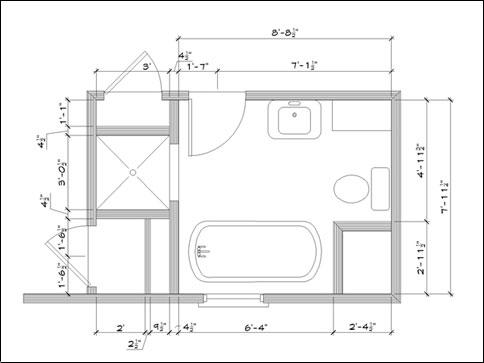 4. Is everything speaking the same language?
You'll often hear interior designers talking about the various elements of a room speaking the same language. Far from being gobbledygook, this is actually very good advice. But what do they mean by 'language'? Well, consider a bathroom with wooden bath panels but bright white cupboards. Or perhaps a black wash basin and an electric blue toilet. Consistency is important when it comes to interior design. Then again, if you like things looking a little eclectic, it's your bathroom!
3. Will any extensive plumbing or electrical work need to take place?
It's easy to get excited during the planning stages, but it's also important to account for infrastructural changes. For example, if you want to move a toilet across the room, or place a bath in a different corner, there are likely to be some plumbing changes that need to be made. The same goes for any lighting and other electrical systems. Before pulling the trigger on the build, be sure to consult with professionals to ensure every base is covered.
2. Is your targeted price range achievable and realistic?
There are few things worse than having a bill arrive that's many times more than you expect. To avoid this unfortunate situation, it's vital that you are realistic in your planning at every stage. You'll need to account for everything from the fixtures to the big items like a whirlpool or spa bath. By costing the bathroom design job properly, you can avoid a painful financial burden at the end, and instead simply enjoy the wonderful surroundings of your new bathroom.
1. Have you considered those little luxuries?
Whilst there's a lot to be said for making sensible choices at every stage, it's generally okay to include one or two extravagances. For example, you could choose a regular white bath that will do its job serviceably. But… you could also pick a luxury whirlpool bath with an underwater sound and lighting system that will introduce you to the at-home spa experience. We're not recommending irresponsible spending, of course, but it's definitely worth considering the odd luxury or two for your new bathroom. And you might be surprised at just how affordable luxuries like whirlpool baths are these days.
Feeling inspired to get cracking on your dream bathroom? If so, feel free to explore the wide range of bathroom products and accessories in our online bath shop. Or, for a more personal touch, call one of our team members today.